No-Code programming for the Industrial Internet of Things - IIoT
Connect independent systems, sensors, and databases. Create the enterprise-wide links that are needed. Stay digitally independent through open-source.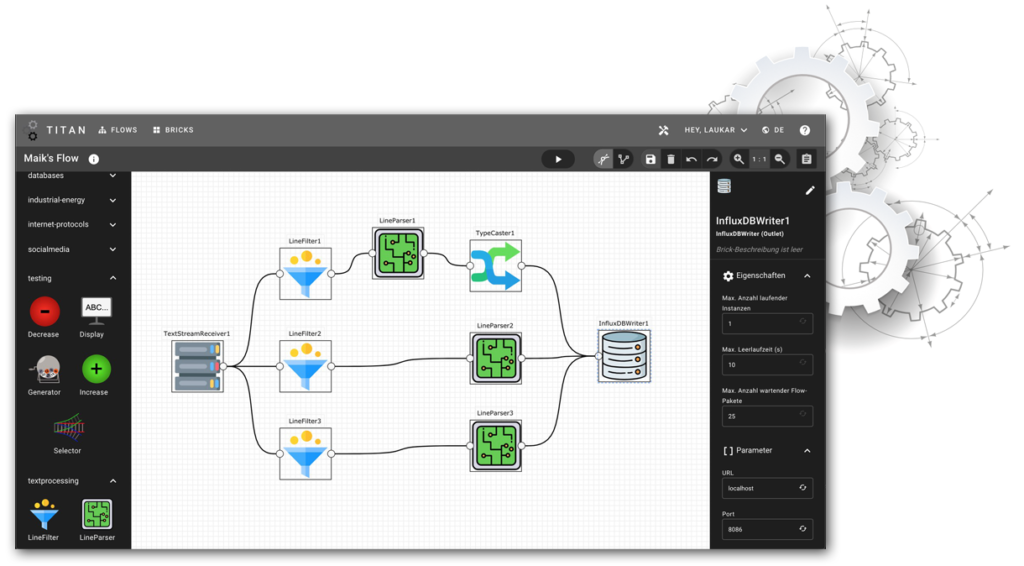 The titan No-Code platform was developed as part of a joint BMBF research project of the Christian-Albrechts Universität of Kiel, wobe-systems GmbH and 14 project partners from the industry.
The project aims to connect systems, sensors, actuators, and software from different manufacturers so easily that skilled workers can generate new functions and automations as part of their daily work without programming knowledge.
We believe that this enables companies to respond better and faster to new challenges and create digital added value for customers.
System integration - automation - augmentation
The platform grows with the requirements. Extensibility and scalability are maintained even after many adaptations. This is made possible by the properties of the platform.
titan enables us at Krause-Biagosch to harness the data stream provided by our globally installed machines for new digital service lines.
The open-source titan software enables independent transparent process monitoring in many applications. Decentralized measurement data from Höntzsch flow sensors as well as equipment from other manufacturers can be easily and cost-effectively analyzed, visualized, and processed. Especially for SMEs, powerful and very flexible process control software is available. titan thus supports the sustainability and energy efficiency of our customers. Non-existing proprietary dependencies make the system highly adaptable. titan was designed for users without deep programming knowledge. Competent cooperation partners are available for the realization of complex cases. The future starts now - make your company fit for the future!